Welcome to the Zone of the Enders Wiki
Zone of the Enders is a franchise created by Hideo Kojima. The series spans two main installment games, a sidestory handheld game, an anime series, and an OVA.
Warning: This wiki contains spoilers!
Featured media
Titles
Featured article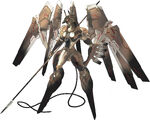 Class: Type C Orbital Frame Purpose: General Piloted By: Nohman Weapons: Arm Cannon, Battle staff, Homing Laser, Burst Attack, Grab, Shield, Zero Shift The strongest Orbital Frame controlled by Nohman. A twin mech developed along with Jehuty, it has similar characteristics. It has the ability to use an Urenbeck Catapult in order to propel itself at incredible speeds. Anubis's abilities are similar to Jehuty's through the use of burst attacks and its laser dash attack... Read More  

Blogs

<a href="http://vocaroo.com" style="font-size:xx-small;" title="Vocaroo Voice Recorder">Online recording software >></a>
Can anyone one please help contribute more on all Zone of the Enders OST Music that would be a great help thanks.
Hi for Everyone!
Let be honest: This is my first blog article in the whole Wikia site. But I felt to write here because that's half-related to Zone of the Enders.
So, I started a crossover fanfiction series with this awesome mecha series and the infamous magical girl series Puella Magi Madoka Magica.…
See more >